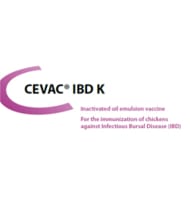 Inactivated oil emulsion vaccine. For the immunisation of chickens against Infectious Bursal Disease (IBD).

COMPOSITION
CEVAC® IBD K contains the GP classical strain of Infectious Bursal Disease virus in inactivated form, homogenised with oil adjuvant and merthiolate as a preservative.

INDICATIONS
CEVAC® IBD K is recommended for the vaccination of breeder-type chicken flocks, previously immunised against Infectious Bursal Disease (IBD or Gumboro Disease) with an attenuated live virus vaccine.
Progeny of vaccinates will have specific maternal antibodies.

STORAGE
- Store vaccine between +2°C and +8°C or 35°F and 45°F
- Protect from light
- Do not freeze

PACKAGED
1,000 doses / 500 ml
5 x 1,000 dose bottles / box

WARNING
This product contains oil based adjuvant; accidental injection into a human may cause a serious localized reaction. Seek expert medical attention immediately.