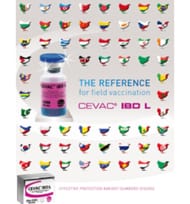 Live freeze-dried vaccine, Winterfield 2512 strain. For the active immunisation of chickens against Infectious Bursal Disease.
COMPOSITION
CEVAC® IBD L contains the Winterfield 2512 strain of Infectious Bursal Disease virus in live, freeze dried form. The embryonated hen eggs used in the production of the vaccine are obtained from specific pathogen-free (SPF) flocks.

INDICATIONS
For the active immunisation of healthy chickens against the disease caused by classical and very virulent strains of Infectious Bursal Disease (Gumboro Disease).

CONTRA-INDICATIONS
CEVAC® IBD L should not be used for the immunisation of flocks without maternally derived antibodies.
STORAGE
- Store vaccine between +2°C and +8°C or 35°F and 45°F
- Protect from light

PACKAGED
1,000 - 2,500 and 5,000 dose vials
20 x 1,000 dose vials / box
20 x 2,500 dose vials / box
20 x 5,000 dose vials / box